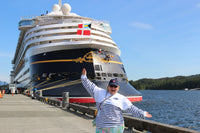 About Me!
Hey Y'all! 
I'm Rebecca- The creator, "imagineer", magic and monogram loving, owner of Southern Coastal Magic!
I have grown a lot since I opened in 2015, but some things have never changed. I always work to achieve the best products possible that you as customers will adore! 
All products are made by me so I always try to put my own spin on everything. So make sure to check out all the customizable items that I have available to purchase! We have products available for every vacation whether you are going on a cruise or just hanging out at home and wanting to add some extra magic we can help!
I aim for 100% customer satisfaction both with my products and customer service. I do my very best to communicate, to be open and honest and make every customer so excited about SCM that they return for more magic!
Thanks for stopping by and I hope you have a Preppy and Magical Day!